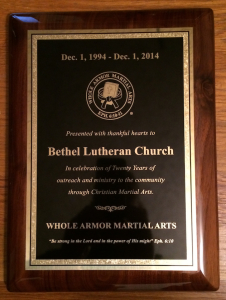 Today is a special day – it's the 20th anniversary of our first class at Bethel Lutheran Church in Brush Prairie! To mark the occasion I wrote a small article about the ministry, had a nice plaque made and presented them both to Pastor Ron Zschoche at Bethel this morning. The article and a few photos are below!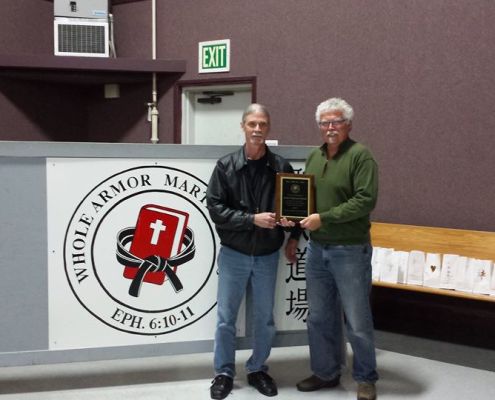 ****************
"For those of you not aware, Whole Armor Martial Arts is a Christian martial arts school that rents the gym at Bethel several times a week for classes. The amazing thing is that as I write this on Monday December 1st, 2014 – it's the 20th anniversary of our very first class at Bethel!
In 1994 the gym looked quite different. The floors were bare cement and there was nothing on the walls but some sheetrock and plywood. The upstairs had not been put in yet so it was quite a different environment from the nicely finished room you have today.
But even though it wasn't the prettiest place to look at that very first day, the wonderful thing is that ministry happened! We trained in our physical skills as we still do at every class, and more importantly we also opened our Bibles and studied God's Word just like we do at every class today 20 years later, teaching students to "become strong in the Lord, and in the power of His might." And ya know what? God has blessed that in ways I cant even begin to describe. You would absolutely be amazed at the stories I could tell! And I also have to tell you that God is still working powerfully to draw people to Himself as we continue to point people to Christ at every class. Lives really do change and people leave that gym different folks than when they came in, and they impact their families, their schools, their jobs and so much more as we all learn to trust God and live for Him in every area of our lives.
And it doesn't stop here in our community either. We've had students share their faith and skills all over the world, we've supported missionaries and seen God use what we do in martial arts ministry further than we ever could have imagined.
So let me thank you, our friends, and brothers and sisters in Christ at Bethel, we are so blessed to partner with you in ministry. And ya know, I hope that we've only just begun to see the amazing things that God is going to do!
God bless you!
Ron Hagelganz – Whole Armor Martial Arts"
*******************
Here's two photos from our first Exam in the gym at Bethel, this was December 1994
Here's a photo from our Exam last month – my, a lot has changed in 20 years!  🙂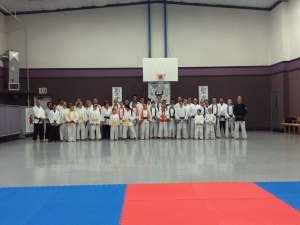 Thank the Lord for His amazing work and the blessing of partnering with Bethel in ministry through Christian martial arts!
You can visit Bethel's FB page here.
https://wholearmor.net/wp-content/uploads/2013/04/header.jpg
0
0
Mr. Ron Hagelganz
https://wholearmor.net/wp-content/uploads/2013/04/header.jpg
Mr. Ron Hagelganz
2014-12-01 11:11:34
2014-12-02 07:43:00
20 Years at Bethel!