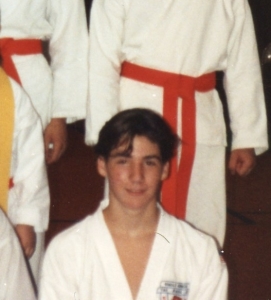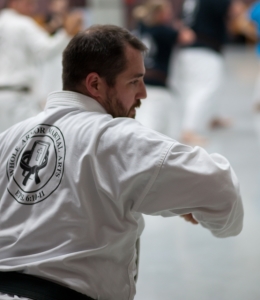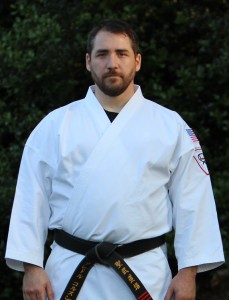 More great news: April 22, 1991 – April 22, 2016
Congratulations to Andrew Colson on 25 years in the Martial arts! And we're also excited to announce his promotion to 4th Degree Black Belt! Thank you Colson Sensei, for being part of our Whole Armor Martial Arts family all these years, we're all very proud of you!
"The steps of a good man are ordered by the Lord, and He delights in his way." Psalm 37:23
---
Exciting news! Andrew Colson is now the owner and senior instructor of Whole Armor Martial Arts ®, King County WA. For more information, please visit his website HERE.
---
Andrew Colson started training at WAMA almost 25 years ago. "I wanted to do some kind of martial arts, and my mom knew Mr. Hagelganz. After one class, I was hooked."
Under the guidance of Mr. Hagelganz, Andrew earned his Black Belt in 1995 at the age of 18. Then after earning his 2nd degree black belt, he instructed at his own Whole Armor Martial Arts school for almost 2 years, and then began serving his country as a Marine for the next 5 plus years, including three tours of the middle east. After completing his service, Andrew continued his training under Mr. Hagelganz at Whole Armor Martial Arts, earning his 3rd degree Black Belt in 2007. He then co-instructed the schools Thursday night class, until moving to Issaquah WA in 2015 with his new bride Sara.
Now just shy of his twenty-five year anniversary with Whole Armor Martial Arts, Andrew is opening up a new school in Bellevue, WA. He continues to visit the main school in Vancouver once a month for his own training with Mr. Hagelganz at their monthly Black Belt class.
During the day, Andrew is an IT Professional working at Expedia Inc. He spends plenty of his off time with his wife & family, friends, pet cat Knuckles, working on cars, helping his church, and playing games.
"Even though I love to study the physical aspects of the martial arts and explore the infinite knowledge Whole Armor has to offer, I am regularly reminded that this school's primary focus is to be a ministry where people can come to learn about Jesus, and experience the excellence that a relationship with Him can bring. I can't wait to see what God will do with this school, and how I may be used to further His aim."