When I was a kid, around 1st grade or so, whenever we needed to take money to school for anything my mom would tape the coins individually onto a small piece of stiff paper and pin the paper to my shirt. Apparently this was the fashionable way to send money to school since there were lots of other kids walking to school with coins pinned to their shirts too. And I remember thinking that it was a big responsibility to have those coins and it seemed to make us all extra careful to be sure that those little pieces of paper were delivered to the teacher. It was almost like a badge we wore and in a way I thought it was kinda cool to have some money pinned to my shirt (whatever "cool" meant to a 1st grader…) Now obviously it was quite a different world some 50 plus years ago too! Can you imagine trying to do that today?
Well it struck me today as I recalled all this, that my faith is a lot like those coins pinned to my shirt. It's a big responsibility, I want to be sure it's delivered and it's a pretty cool thing too. So how about you? Could you think of your faith like that?
Matthew 11:28 "Come to Me, all you who labor and are heavy laden, and I will give you rest."
Our faith certainly is a big responsibility, as we know and have the answers to life that most of the world around us is searching for. And so we want to live for Christ out of obedience and love for what He has done for us.
Matthew 5:14-16 "You are the light of the world. A city that is set on a hill cannot be hidden. Nor do they light a lamp and put it under a basket, but on a lampstand, and it gives light to all who are in the house. Let your light so shine before men, that they may see your good works and glorify your Father in heaven."
Of course we can keep faith to ourselves, but that's not really why we have it now is it? We're meant to share it and pass it along, which is the delivery part. We want to always be looking for opportunities to tell those around us about it.
Romans 10:14 "How then shall they call on Him in whom they have not believed? And how shall they believe in Him of whom they have not heard? And how shall they hear without a preacher? And how shall they preach unless they are sent? As it is written: "How beautiful are the feet of those who preach the gospel of peace, who bring glad tidings of good things!"
And our faith is a wonderful thing, something that we should want people to see in us. Now when those coins were pinned to my shirt that was the very first thing anyone noticed when they looked at me, and in my little 1st grade way I was proud to have them there. Does your faith show in your life that much? Is it the first thing people notice when they look at your life? Are you proud to wear the name of Christ and be called one of His kids? Good stuff to think about!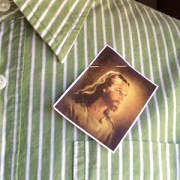 Romans 1:16 "For I am not ashamed of the gospel of Christ, for it is the power of God to salvation for everyone who believes, for the Jew first and also for the Greek."
https://wholearmor.net/wp-content/uploads/2013/04/header.jpg
0
0
Mr. Ron Hagelganz
https://wholearmor.net/wp-content/uploads/2013/04/header.jpg
Mr. Ron Hagelganz
2015-01-14 08:16:18
2015-11-23 13:46:11
What's On YOUR Shirt??