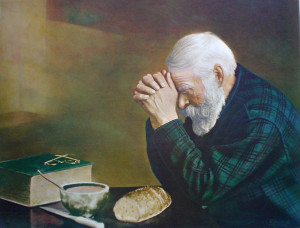 For as long as I can remember, this picture hung in my grandparents kitchen when I was a kid.
Interestingly enough I always thought it was a painting, and only recently found out that its actually a photograph called "Grace". It was taken by Eric Enstrom around 1918, and was originally black and white, and later his daughter added the color by hand.
Anyway, it's obviously a striking image on several levels. The aged prayer warrior, reliance on God after a lot of years, giving thanks for our food, our provisions, the Bible, and a lot more. Amazing how much you can think about just looking at a very simple photo.
As a kid it always made me think of prayer, and believe me, my grandparents were serious about praying. Every morning after breakfast my grandfather would read something from the Bible, and then we would all get on our knees at our chairs, right there by the breakfast table, and he would pray. About everything. He would pray for all the family, various needs or illnesses, calling on God "the Great Physician" to heal those we loved. He would thank God for His mercy and grace, the blessing and provisions. He would pray for missionaries, the church and pretty much anything else you could think of. And then we would get up and begin our day.
Now sometimes they got off the chair and onto their knees with great difficulty, and there were eventually times when one of them couldn't do it at all, and would just sit to pray – but they would always pray.
And it showed me how basic and foundational God's Word and prayer were to them and their faith. And it instilled in me a desire to have that same kind of unshakable faith in God that they had across a lot of years.
My grandfather told me a story once (or probably a bunch of times!) about someone he knew, it may have been a friend or a relative, I don't recall. As best I remember, they skipped their morning prayer time to do some work out on the farm, and there was an accident and the donkey or some animal fell into a ditch or something like that, and had to be rescued, which took a lot of work and effort. And they always wondered after the fact, if they had not skipped their prayer time, if everything would have been OK with no incidents. A powerful thought.
Here's another one: Psalm 4:8 tells us, "I will both lie down in peace, and sleep; because You alone, O Lord, make me dwell in safety." Every night I pray that prayer, that God would protect our home and let us lie down in peace, and sleep. Now there are all number of anti-bad guy devices next to my bed, and there's more than a few years of anti-bad guy training lying there too. And while I firmly believe that God intends for us to do our part in all of that – locking our doors, equipping ourselves, etc, etc, I also know that ultimately it is the Lord, and He alone, that protects us and keeps us safe. And prayer is the key.
I don't have a clue how it works, but prayer is powerful, prayer can and does move mountains, and prayer is something we should never neglect. The apostle Paul tells us to "Pray without ceasing", and that is great advice.
What a privilege, to talk with God anytime, anywhere, about anything, and to know that He listens, and cares. Blows my mind just thinking about it. As the old song says,
Oh, what peace we often forfeit,
Oh, what needless pain we bear,
All because we do not carry,
Everything to God in prayer!
(Read more WAMA blogs here: https://wholearmor.net/category/blog/ )
https://wholearmor.net/wp-content/uploads/2013/04/header.jpg
0
0
Mr. Ron Hagelganz
https://wholearmor.net/wp-content/uploads/2013/04/header.jpg
Mr. Ron Hagelganz
2016-01-07 15:30:06
2016-01-08 15:36:08
Prayer