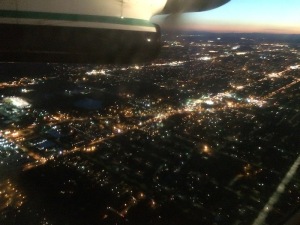 The photo is from the window of the plane as I was coming home from a recent trip to see family in California. It was great to get away for some much needed R&R, but it was sure great to be coming home too. And it was a very welcome feeling as we descended out of the clouds and started that long final approach to the airport and some familiar landmarks began to appear. Like Dorothy said in the Wizard of Oz: "There's no place like home."
I'm reminded of the story of the Prodigal Son in Luke chapter 15, where a young man left his family and wasted everything he had on frivolous living. And when he hit bottom and realized that even his father's servants were better off than he was, he came home. And his father threw a big party to welcome him back and I'll bet it felt really good to be home.
At our Karate classes last week during our Bible study we gave students the opportunity to receive Christ as their Savior, and to our joy, many responded. And while we rejoiced at the amazing miracles that took place with those prayers, I can only imagine the huge party that was going on in Heaven as more people who had been lost, came Home.
So how 'bout you? Are you wandering around, lost in a world that has no answers? A lot of people are. And the truth is, there's only one way to come home and experience life the way God intended, and that's through faith in Jesus Christ. And ya know, it doesn't matter if your grandfather was a preacher, or you've gone to church for years yourself. You may pray all the time, be on church committees, teach Sunday school, sing all the right songs, and even read the Bible daily. But if you've never asked Jesus to forgive your sins and be the Lord of your life, all those other things don't matter at all.
So let me invite you, just like we did in our Bible study in the middle of Karate class, to give your life to Jesus. To come Home. You may not understand much or even any of the things of faith, but if you will simply believe that Jesus loves you, that He is the Son of God, ask Him to forgive your sins and accept His gift of Eternal Life, you're Home. And I guarantee you it will feel really, really good. If you have questions about this whole thing – let us know. We would be thrilled to help, and have Heaven throw a party just for you!
https://wholearmor.net/wp-content/uploads/2013/04/header.jpg
0
0
Mr. Ron Hagelganz
https://wholearmor.net/wp-content/uploads/2013/04/header.jpg
Mr. Ron Hagelganz
2015-03-03 11:36:09
2015-11-23 13:45:47
Coming Home