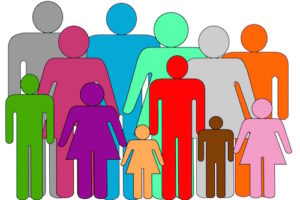 About a year ago one of my relatives had a major health problem that required a very expensive procedure. They set up some kind of online thing to help raise money, and even though we were going through tough times ourselves, I remember being so excited to donate and help. It was a "Family" thing, and a great blessing to be a part of it all.
Now, another circumstance is happening where funds are needed to help another of our family through a tough spot. And once again, the extended family has stepped up, blessing them beyond what we could have hoped for.
My mom had been having significant health problems, and just passed away two weeks ago. And once again, the family being there through the whole thing made all the difference.
A few months ago one of our Black Belts and his wife were involved in a terrible head on collision. As soon as I got word, the email went out, and our "Whole Armor Family" got rolling. Prayers, meals, visits, even helping to do a remodel so they could do rehab in their own home. Amazing and wonderful to see our martial arts family at work, blessing one of our own.
Ya know, God has a "Family" too. It's comprised of those who have received Jesus as their Savior. And what a wonderful thing to be a part of the family of God!
When we run into troubles or struggles, our families can come to our aid financially, or with emotional support. But God created the universe! As part of His family, we have complete and total victory over anything we will ever face.
There's an old hymn we used to sing that says:
"I'm so glad I'm a part of the Family of God,
I've been washed in the fountain, cleansed by His blood!
Joint heirs with Jesus as we travel this sod,
For I'm part of the family, The Family of God."
Yes – I'm so glad for my earthly family, and cant imagine going through this life without them. But more than anything, I'm eternally thankful that I'm a part of the Family of God!
https://wholearmor.net/wp-content/uploads/2013/04/header.jpg
0
0
Mr. Ron Hagelganz
https://wholearmor.net/wp-content/uploads/2013/04/header.jpg
Mr. Ron Hagelganz
2016-10-06 20:34:39
2016-10-06 20:36:53
Family Ties